I won the 44th Nightfire Nationals Heavy class Sunday 8/16/2015 at Firebird raceway Idaho.
BY 1 POINT. Class is 11.50 to 14.99
I broke the Hurst Shifter Lever clean off at a race Friday the 7th before the start of the Nightfire on a 2nd to 3rd shift. Ordered a new shifter from Summit, Got it Monday late afternoon and installed it. The lever was positioned towards the rear of the Mustang and leaned more toward the driver, than the old shifter was. Shifter functioned properly but not per my muscle memory.
Any way this is a 4 day individual race with a overall Champion at the end for each class. There were around 40 entries in this class .
Started out on Thursday 2 time runs both of which I screwed up not making shifts (I power shift). But I did learn where the gears were hiding. Threw caution to the wind and put a 12.47 dial on the window, the other car was dialed 13.74 neither of us had good reactions mine was .060 better. He ran it out the back door and broke out. I ran a 12.62 at 110.72. It was 102 degrees. Next run was against a good friend in a Duster dialed at 12.70 I dialed 12.50 my light .070 his .072 I lifted just before the finish line and lost by .0071. Should have run it out 12.601 his 12.792. Out come 1 round win.
Friday one time run red light -.023 more concerned with the run, good clean pass 12.483 at 111.21. Now I have a good run under the belt. First elimination round -.004 12.49 dial ran a 12.563 out come 0 wins. It was 107 degrees.
Saturday got my head on straight. First time run .049 12.456 at 110.57 good clean run.
Round 1 11:41am came up against the point leader. She went red -.001 dialed a 13.05 and ran a 13.054. Dodged a bullet I dialed a 12.51 (Head wind and 98 degrees) .064 (saw her red) ran a 12.459 110.36. Wrong on head wind and temp change.
Round 2 3:28 His dial a 12.61 I dialed a 12.47 his light .042 mine .068 he ran a 12.641 I ran a flat out 12.472 110.49. My win MOV .0032.
Round 3 4:27 His dial 13.83 mine 12.47 he went red -.065 I pushed my light, -.005 OK his was red first, ran a 12.475 at 110.41 Flat out.
Round 4 6:17 His dial 12.00 mine 12.47 I dialed 12.47 His light .038 mine .019 He broke out running a 11.982 I ran a 12.470 Package .019 flat out at 109.90
Round 5 Semi finals 6:53 His dial 13.46 mine 12.47 My mind went some where else, you know, oh look at the pretty flower, O shit I'm racing. Missed 2nd gear
This important I picked up 1 point for reaching the Semi final round.
Sunday morning Point standings I'm in 10 place.
Sunday good mine set ready to go. Time run .005 12.454 at 110.97 OK
Round 1 11:23 His dial 12.72 mine 12.46 His reaction .039 mine .015 he ran 12.79 110.9 I ran an on the breaks 12.518 100.33 MOV .0369
Round 2 1:13 His dial 11.51 mine 12.46 His reaction .048 mine oh crap a .109 I ran a 12.511 on the brakes At 107.61 and he ran a 11.653 at 111.57 I took the stripe with a MOV .0316 moving on
Now on a ladder
Round 3 2:12 His dial 12.63 Mine 12.47 His reaction .023 mine .045 He ran a 12.627 at 106.55 brake out I ran a 12.474 at 110.28
Round 4 1/4 final 5:51 His dial 11.85 Mine 12.49 (high head wind 5-12) His reaction .055 mine .022 He ran a brake out 11.837 At 111.44 I ran a 12.496 a 109.89 and took the stripe .0147 Just lifted of the gas
The announcer Just before this run announced the point standings and possible point champions I heard my name as a possible champion if I went the whole way by 1 point.
Round 5 8:07 Got the single into the final Dialed 12.46 .061 12.449 at 109.97
Round 6 8:46 FINAL ROUND His dial 11.80 mine 12.43 His reaction .181 mine .037 He ran a 11.762 at 109.80 I ran a 12.50 at 104.63 hard on the brakes took the stripe .0302
I was the only 67 Fastback the only 4 speed and the only FE on the property in competition.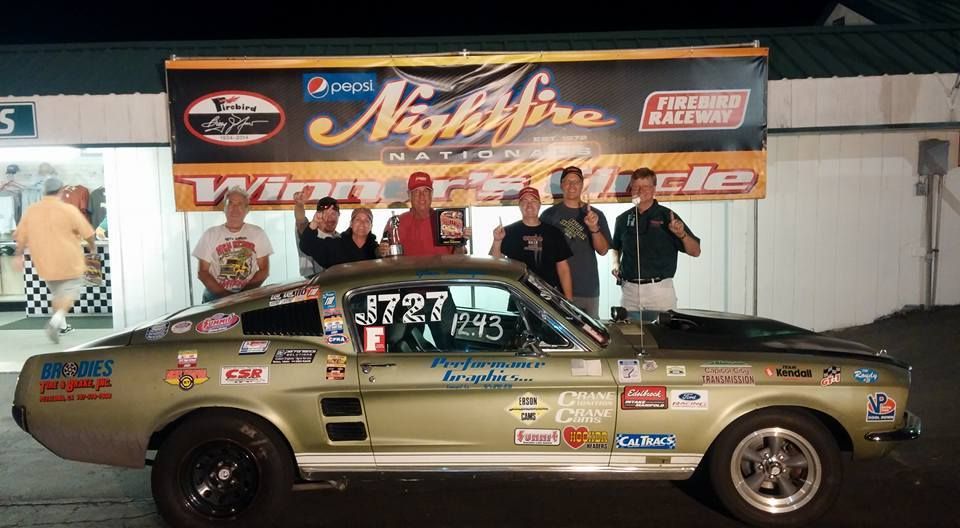 OH by the way I won $1050.00 for the 4 days.